The Mott Lecture is a traditional plenary talk at the ICANS conference, in the honor of Sir Nevill Mott, laureate of the Nobel Physics prize in 1977. Sir Nevil Mott was one of the pioneers of the ICANS conference series.
This year the Mott Lecture will be given by Prof. Elvira Fortunato, in recognition of her work on new material systems, in particular oxide semiconductors, and their application to thin film transistors and large area electronic devices. The title of her Lecture will be "Metal Oxides vs Multifunctional Materials"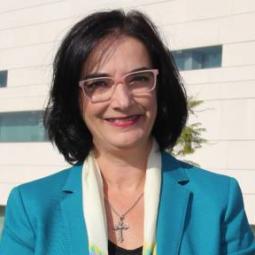 Elvira Fortunato is Vice-Rector at NOVA University and Director of the Associated Laboratory i3N (Institute of Nanostructures, Nanomodeling and Nanofabrication). Since 2016 she integrates the group of Chief Scientific Advisors of the European Commission.
She is an elected member of Academy of Engineering (2008), European Academy of Sciences (2016), Lisbon Academy of Sciences (2017) and since last year from Academia Europaea. She belongs to the Board of Trustees of the Luso-American Development Foundation (2014). In 2008 and 2018 she was awarded with ERC Advanced Grants in the area of oxide electronics targeting transparent electronics and the building of multi smart devices using digital technologies, respectively.
She received the Czochralski Medal (Science Materials) assigned by the Polish Academy of Sciences in 2017 and the Blaise Pascal Medal conferred by the European Academy of Sciences, 2016. She has been distinguished with several National and International Prizes, among those it is worth mentioning the title of Doctor Honoris Causa, in 2009, by University of Galati, and the denomination of Grand Officer of Order of Prince Henry the Navigator, acknowledged by the President of the Republic of Portugal in 2010.